The 2012 Summer Olympics UFO sighting occurred during the fireworks of the opening ceremony. The incident came right at the close of the spectacular fireworks at the Olympic Park stadium in Stratford, East London at around 12:30am[1] on Friday night, July 29, 2012.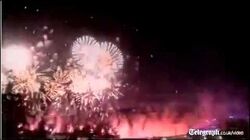 The Examiner contested that the object was a blimp used by a news channel to gather footage. However, the object does not look like any of the floating airships that NBC Olympics, a division of NBC Sports, used. Only Goodyear blimps were used for all of its 2012 Olympics aerial coverage.[1]
Ufologist Nick Pope, one of the UK's top UFO experts, predicted weeks before this event that mass summer events would be a prime time for crafts, from other worlds, to present themselves to mankind.[1]
Conspiracy theory
Edit
In conspiracy theory, many esoteric symbols were witnessed in the 2012 Summer Olympics, including the mascot being an all-seeing eye, and the triangle shaped arena lights, also symbolizing the all-seing eye on top of a pyramid similar to that on the U.S. dollar bill.
References
Edit
External links
Edit